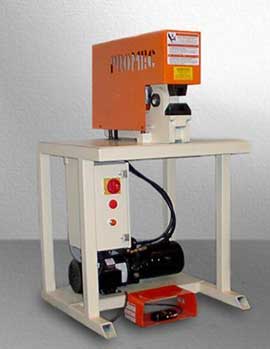 PROMEC's Model 438 is used by many small to mid-sized enterprises engaged in making a variety of products in the United States and around the world.
Most users have multiple machines due to the proven reliability and versatility of the PROMEC design and because PROMEC machines produce a strong, reliable, professionally swaged fitting, quickly and easily, every time.
Full spare parts support and technical support is available based on a long legacy of engineering and manufacturing excellence.
Lease to buy options are available. Please visit our Financing Options page.
The Model 438 is capable of using a wide variety of standard dies along with custom dies for special applications. PROMEC strongly recommends that only PROMEC dies be used with the Model 438. For more information about PROMEC standard dies and custom dies, and for a complete list of dies offered by PROMEC, please see our Standard Dies page and our Custom Die & Die Services page.
Universal
Swages Mil-Spec round fittings as well as single squeeze commercial fittings; to do both would normally requiring require multiple non-PROMEC machines.
Quick Die Changeover
Two minutes or less to change dies means minimal downtime between jobs and more production.
Low Cost
Most versatile, reliable machine on the market at a price that's more than competitive with any other manufacturer's comparable machine.
Fast Cycle Time
Simple preposition die opening feature reduces nonessential jaw motion for a complete swaging cycle in as little as 1.7 seconds.
Compact Design
Each machine is compact, requiring minimal floor space: 48″ high, 28″ wide and 38″ deep and weighing only 500 lbs.
Highly Reliable
Long history of highly reliable, low maintenance use by many satisfied customers.
Versatile
Capable of handling up to 1/4″ cable diameters as well as synthetic rope while delivering 55-tons of swaging power.
Safety
Ergonomically designed for operator safety.
Quality Dies
A wide range of standard dies are available from PROMEC and we can create custom dies for any unique application.
Easy to Use
Smooth, quiet, simple, easy set-up, operation and maintenance.
Operational Features
Adjustable die holder feature: easy to adjust, reduces cycle time and maximizes operator efficiency.
Quick change die system: minimizes down time between production runs and simplifies set-up for the next job.
Over 100 standard dies available from PROMEC, including those that satisfy all industrial and military specifications, allow for a wide variety of applications.
Capable of utilizing PROMEC custom dies to meet any possible unique application. Contact PROMEC with your fittings need or custom die design and PROMEC's engineers and designers will work with you to meet your requirements.
Cycle time
The adjustable die holder feature significantly reduces the actual cycle time for the machine to complete one swaged fitting by limiting the "open" position to only the minimum required to process the next fitting.
Fully open to fully closed cycle: 1.8 seconds (approx.)
Fully closed to fully open cycle: 1.7 seconds (approx.)
Electrical Specs
Standard build: 110 volt, 1 phase, 60 Hz
Optional build: 220 volt, 3 phase, 60 Hz
Custom build: per request, including requirements in countries other than the United States.
Size
Height: 58 inches
Width: 28 inches
Depth: 38 inches
Work height: 36 inches
Weight: 500 lbs. (approx.)
Hydraulic Specs
Low pressure, standard RPM pump motor for quiet operation.
1 hp pump with 1.2 gallon fluid reservoir for cool operation.
Heavy duty cycle cylinders, seals, bearings, hoses, valves and pressure relief valve for long reliable life.
Safety Features
Instant Stop feature: The operator must apply pressure to the dual action (open/close) foot switch for the machine to operate. If the operator removes their foot from the switch at any time during the machine's swaging cycle, the machine will come to an instant stop; no uncontrolled or automatic motion.
A steel safety guard protects the operator and others from all pinch points (other than the point of operation).
Overall, the Model 438 has been ergonomically designed to reduce operator fatigue and improve efficiency and safety.
Please note: due to the variety of potential operations that the Model 438 may be used for, this machine is not provided with point of operation guards. Point of operation guards are those guards that prevent anything other than the actual fitting to be swaged and wire rope from fitting between the swaging dies. The purchaser of any machine is responsible for installing point of operation and other safety devices appropriate for the operations being performed. For more information on the product's safety features, please contact PROMEC.